Getting braces or clear aligners, AKA Invisalign®, is an important decision that will affect your dental health for a lifetime. The orthodontic treatment you receive will also affect your smile, speech, eating and jaw joints forever. Most recently, there has been some confusion about who should be providing your orthodontic care — your family general dentist or a certified orthodontic specialist, an orthodontist. Consumers have the right to be informed in a non-deceptive manner of the significant differences in care between the two before starting their orthodontic treatment. After all, it is your smile, your bite, your profile, your choice.
All doctors are not the same. An essential fact to remember is ALL orthodontists are dentists, but only 7% of dentists are orthodontists. This is because all orthodontists and general dentists have completed nearly 8,000 hours of dental training to get their dental degrees. This teaches just the BASICS of dentistry. A specialist, like an orthodontist, spends an additional 4,000 to 6,000 hours in an accredited residency program to learn just the BASICS of orthodontics. Dental specialists, like orthodontists, are recognized by the American Dental Association to protect the public, improve the quality of care, and to make sure the needs of the public are best served. Your general dentist is great for routine dental work like cleanings, fillings, simple extractions, crowns, bridges, dentures and tooth whitening. The scope of their practice is preventive, restorative and cosmetic dental work. However, an orthodontist sees things quite a bit differently. They have been specially trained, and are experts in the art and science of orthodontics. Orthodontists specialize in smile and facial esthetics, facial growth and development, jaw function, alignment of teeth and jaws, tooth movement, and straightening of the teeth. They have the practical experience, clinical judgment, specialized training, and artistic skill to provide the best possible orthodontic care for each and every patient with braces or Invisalign®.
Today, some general dentists are advertising orthodontic care, "hard selling" orthodontic services such as Six Month Smiles® and Invisalign®, and offering discount coupons for orthodontic treatment. Educated consumers are now wondering, "What is motivating these practices to suddenly provide orthodontic services like braces and Invisalign®?" Regardless of motives, general dentists have a moral and ethical obligation to provide the finest possible care for each patient. Part of this duty is to transparently provide each patient with informed consent, and let all patients know that they are NOT orthodontic specialists, as recognized by the American Dental Association and the Florida Board of Dentistry.
If your general dentist offers to provide braces or Invisalign®, be sure to ask these 10 questions first: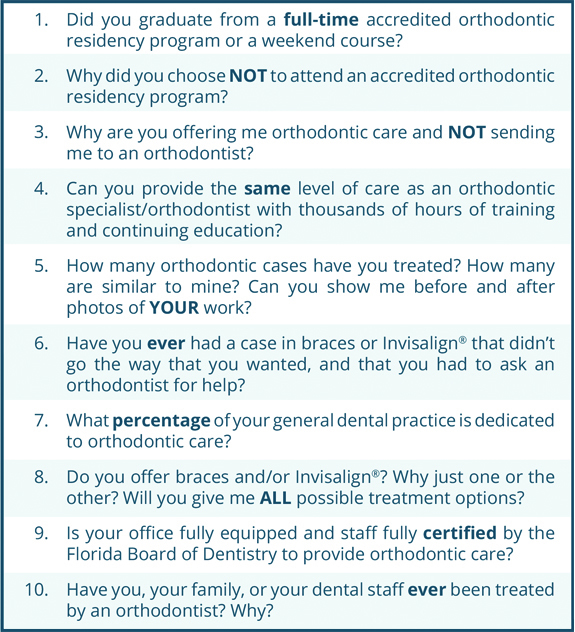 Honest answers to these questions will make it very apparent that the orthodontist is the clear choice for braces and Invisalign®.
Your smile is a priceless investment. Don't make a regrettable decision that will cost you money, time, and stress in the long run.

Remember, it's your smile, your bite, your profile, your choice. Choose the orthodontic expert, an orthodontist, for braces and Invisalign®.  It's the right choice!