Dr. Guelff and his talented team are proud sponsors of Lindsey's Wish, Inc. The organization was established in 2013, in memory of Lindsey Hammortree. One of Lindsey's greatest hopes was that people would remember her own fight, and be inspired to lend support to children like herself, who are fighting cancer.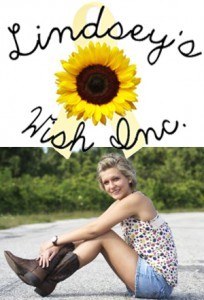 Lindsey was diagnosed with a rare, aggressive form of cancer called Alveolar Rhabdomyosarcoma. Her courageous battle lasted two and a half years. Despite numerous rounds of chemotherapy and frequent hospital visits, she managed to get her GED, attend college and hold a part-time job.
Lindsey passed, much to soon on December 20, 2012. To commemorate her journey in life, Lindsey's Wish was established for the purpose of raising funds to assist children in Highlands County who are battling cancer. The funds are distributed to the children's families for medical expenses, or assistance with other financial needs.
Each year, Dr. Guelff will donate a Smile Certificate for Lindsey's Wish Silent Auction. The certificate entitles the recipient to full orthodontic care in Dr. Guelff's office. This service includes clear braces, retainers and a bleaching kit. The certificate will be auctioned off in September, at the annual Lindsey's Wish Jewels and Jeans Gala. The money raised is used to support the worthy endeavors of the organization.
Dr. Guelff says, "I had the pleasure of getting to know Lindsey when she was a patient in our orthodontic office. I remember how completely devastated I was when I heard of her cancer diagnosis. It really shook me to the core – reminding me of how precious life is and how we need to make each day count. Lindsey's grace, strength and character were undeniable. Her faith in Christ and positive attitude while facing such adversity was truly inspirational. And who can forget her smile! Her legacy will live on and her wish will be honored through her foundation."